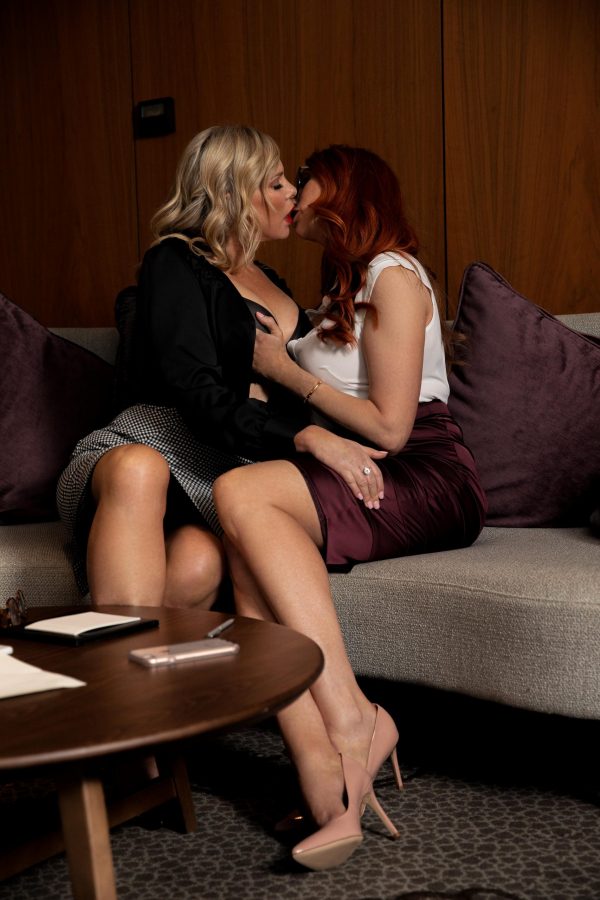 Two women… worldly, playful, confident, and in our prime. A red-haired vixen, and a blonde bombshell; two lustful goddesses, as eager to seduce you as to pleasure each other.
Lara and I enjoy a beautiful close friendship. As soon as we met, I was struck by Lara's intelligence, sensuality, genuine compassion and cheeky personality. She will give you a run for your money with her quick wit and even quicker innuendo, and also, her long red mane of hair, gentleness and playfulness. But let's not deny it – her incredible, bountiful natural breasts are the showstopper! Like me, you won't be able to tear your eyes away!
 Over time, we have developed a luscious sexual connection. Feeling the softness of each other's kiss, the feeling of silky skin, we are taken away to another place when our lips meet. You will enjoy our genuine passion for each other. We will capture you and draw you closer.
Myself, as an ex pilates instructor, you will love my sparkling character, beautiful face (and derrière – its true what they say about squats!) Beware, I have stamina, and a natural, palpable eroticism.

Ultimately, what we need to complete the picture is the presence of a man – his touch, his scent, his mouth, his desire…
Your presence completes our fantasy.
We are both born show ponies when we have a male audience, so let us show off for you. Of course, you can watch, but don't expect to be allowed to languish, because for us, three is never a crowd! You can be assured you will never be left out. Our only expectation of you is that you authentically have fun during our time together.

Introvert? We know we can tempt you out of your shell, in the privacy of our beautiful apartment. Our time together will flow naturally, with no pressure. We promise to make you feel relaxed and allow you to let your worries go. Perhaps a sexy bubble bath together? Or a naughty game? Lighthearted fun, followed by passionate, playtime at your own pace. Extrovert? At the dinner table, connection builds by getting to know you, who you are, what you think about. Who knows whose feet you'll be playing with under the table? We know that our warm and flirtatious manner will ensure you feel completely at ease to open up and feel truly comfortable with us throughout the evening... Until, of course, we get your heart pumping a little later. To follow, perhaps a sexy uptown cocktail bar? Nightclub? Or gentleman's club? Lap dance, perhaps? Do you dare? Then take us home to our discreet apartment, five minutes from the city, or your hotel room. Let's take the opportunity to indulge you and make some serious memories. This is your time. You deserve it. RATES 1 hour : $1300 2 hours : $2400 3 hours : $3200 4 hours : $4200 Lunch or dinner date :   $3400 (This option is 2 hours dining or social time out of the bedroom, then followed by 2 hours intimate time in private. Ideas for social time may involve drinks and a light meal at a bar, dining at a restaurant, or a champagne picnic perhaps.)